Jan 21, 2014
Fermi-LAT Detection of Delayed Gamma-ray Flares from Gravitational Lens B0218+357

Using data from the Fermi Large Area Telescope (LAT) scientists of the LAT Collaboration, including staff of ASDC, have discovered the first gamma-ray signature of a delay between flares from the gravitationally lensed images of a high-energy emitting blazar. The time delay was observed in LAT flux light curves of blazar S3 0218+35 (OD 330, B2 0218+35, 2FGL J0221.0+3555), a known double-image system as lens B0218+357 (2014 ApJL, accepted, arXiv:1401.0548). Long before light from B0218+357 reaches us, it passes directly through a face-on spiral galaxy, about 4 billion light-years away. The galaxy's gravity bends the light into different paths producing dual images of the background blazar. The B0218+357 lens images hold the record for the smallest separation of any lensed system known. While radio and optical telescopes can resolve and monitor the individual blazar images, Fermi's LAT cannot, but can, instead, observe a "delayed playback" effect. Three episodes of flares showed playback delays of 11.5 days.

This accomplishment opens new avenues for research, including a novel way to probe emission regions near supermassive black holes, and multi-messenger opportunities triggered by observed gamma-ray flares and the Fermi LAT continuous sky monitor. Time-dependent searches for neutrino signals from flaring blazars seen by Fermi LAT, for example, are of interest of experiments like IceCube, ANTARES, KM3NeT. Lensed gamma-ray/neutrino blazars, in particular, might lead to neutrino quantum interference signals as the lens could act like a cosmic beam splitter, as noted by S. Ciprini (ASDC) when he discovered the first gamma-ray flare from this lens (Aug. 26, 2012, ATel#4343), and collaborator of this first study.

C.C. Cheung (NASA GSFC) and S. Larsson (Stockholm Univ. and ASDC visitor) coordinated the LAT study of lens B0218+357, thanks also to a granted target-of-opportunity pointed observation of the LAT (Sept. 24 to Oct. 1, 2012) triggered by the observation of a second flare (ATel#4361). Intriguingly, the gamma-ray delay is about a day longer than radio observations report for this system. And while the flares and their playback show similar gamma-ray brightness, in radio wavelengths one blazar image is about four times brighter than the other. Gamma-rays should arise from different regions with respect to radio-band flux, so these emissions likely take slightly different paths, with correspondingly different delays and amplifications, as they travel through the lens.

As long as the Fermi LAT all-sky survey is continuing it may even be possible to find other high-energy gravitational lenses, even if the gamma-ray lensing signal cannot be easy to disentangle, as emerged from a first study, lead by ASDC and the Padova Fermi group, on the other strong Fermi LAT lens known, blazar PKS 1830-211 (ATel #2943; ATel #4158; ApJ paper submitted by the LAT Coll.; 2011, A&A, 528, 3; and 2013 A&A, 558, 123).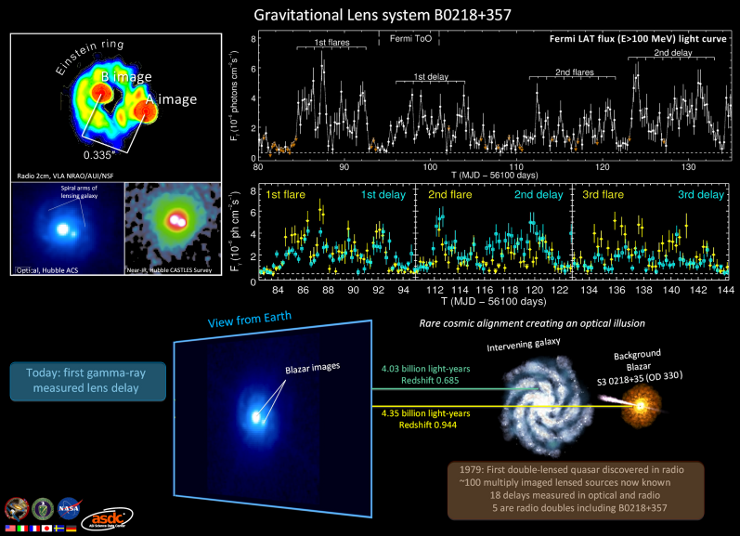 Further links: